Protecting You and Your Business in Shark-Infested Waters
General litigation practices exist because the risk of a lawsuit is a reality for every business. It's a constant threat that causes uncertainty, instability and confusion that affects how organizations and their employees conduct business and themselves. A company's response to an actual or threatened lawsuit can directly impact its current operations and future viability.
The HM&C Tort and General Liability Defense Practice Group has extensive experience in representing a wide range of litigants and providing industrial solutions to claims arising out of property damage, personal injury, accidents, torts and subrogation.
Our experience, earned from both plaintiff- and defense-directed industrial representation, empowers us to identify and analyze the issues, risks and exposures for litigation quickly and accurately. Our priority is to devise a legal strategy that effectively litigates matters based on a thorough understanding of your business, your objectives and all applicable laws. Our primary goal is to restore security and balance to your business.
The HM&C Advantage
We successfully defend tort and general liability claims at the various levels of the litigation process in a variety of venues through motions for summary judgment and trials when necessary. We also counsel clients on when it is advantageous to settle a meritorious claim out of court.
HM&C's Tort and General Liability Defense Practice Group has conducted litigation in:
Automobile accidents
Employment-related liability
Premises liability
Personal injury
Transportation liability
Our attorneys can also implement lawsuit prevention strategies through in-house risk management protocols and employee training seminars. And we can counsel you on industrial solutions that mitigate litigation risks and help you stay focused on achieving your business goals.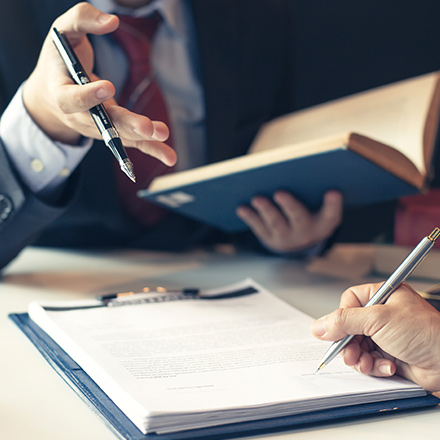 Hail Us!
If you have questions about industrial relations law or need more information about our capabilities or practice areas, simply fill out the form and click Send. We'll respond as quickly as possible.
Or call HM&C and speak to a representative.